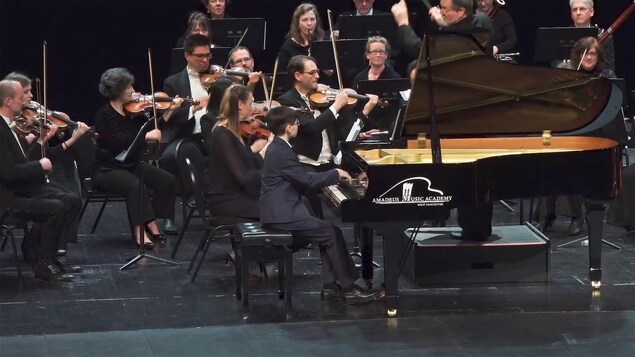 Antoine Villéger, a 14 year old composer and pianist born in Vancouver, is a graduate of DipLCM in Performance (Recital) of the London College of Music, University of West London and of the Royal Conservatory of Music (ARCT). He first studied composition with Alexander Pechenyuk and has worked under the guidance of Juno Award-winning composer Michael Conway Baker. He studies piano with pianist Svetlana Ponomarëva.
Antoine is a winner and a laureate of international and national composers / piano competitions in Canada, Europe (Spain, Luxembourg) and Russia.
His orchestral compositions were performed in Canada by the Lions Gate Sinfonia orchestra and conductor Clyde Mitchell ("The Battle" 2015, "Song without Words" 2018, "The Story of a Theme" 2019, "North Shore Waltz" 2020) and by the Kessler Academy at Music on Main concert series in Vancouver (2019).
Antoine's choral composition "The Butterfly and The Bee" after a poem by E. Dickinson was premiered by the Vancouver Chamber Choir and conductor Jon Washburn in 2019 at the 14th Biennial Young Composer's Competition where it garnered two prizes: the First Place in Elementary Division and a "Barbara Pentland Award for Outstanding Composition".
Antoine freely speaks English, French and Russian and in his free time likes to play tennis and chess, reading and acting.
If you wish to have musical news from Antoine Villéger, you can subscribe to the blog https://pianistsveta.blogspot.com/